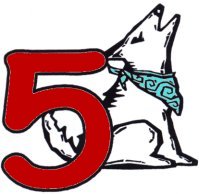 <><> 5 Dogs Creek Membership <><>
Folks who will not be at the range to get their 5 Dogs Creek membership in person may take care of it by mail. Here's a how-to checklist:
[ ] 1. write your CHECK payable to "5 Dogs Creek". $35.00 single membership; $50 family membership

[ ] 2. If you want a hardcopy of the monthly HOWLER and scores mailed to you ADD $10 (for the year). There's NO CHARGE for accessing it on the web site.
[ ] 3. Please print neatly (or type online & print) and provide the following information:
FIRST NAME
LAST NAME
ALIAS
STREET ADDRESS
CITY STATE ZIP
PHONE (include area code)
EMAIL
SASS #
NRA MEMBER # (REQUIRED)

[ ] 4. NRA Membership. Not a member of the NRA or need to renew a membership? A 5DC family membership can be under one NRA membership. You may contact Sunshine Kid, NRA Recruiter (with discounted NRA rates, even for renewals). 310-386-9585
Or Join NRA or Renew NRA on-line at www.TheRowdyWranglers.com on the NRA link.

[ ] 5. MAIL this form and a check payable to "5 Dogs Creek" to:
Boyd Reedy
161 Erten Street
Thousand Oaks, CA. 91360